Inspired by her father and husband, Sarah Maguire, a dedicated high school teacher from Calgary, AB, laced up her cleats at the age of 24 to embrace the world of rugby. Unaware of what this decision would lead to and the adversity she'd have to face along the way, her extraordinary journey soon unfolded.
In 2018, Sarah's rugby journey expanded into the realm of rugby league. Initially, her lack of experience hindered her confidence. However, her father, Clint Bell, a constant source of inspiration in rugby, saw her untapped potential and encouraged her to aim higher.
Tragically, in March 2020, Sarah's father was diagnosed with stage 4 lung and colon cancer. Compounded by the COVID-19 restrictions that prevented hospital visits, Sarah's ability to see her father was severely limited. Nonetheless, whenever they had a chance to connect, her father would eagerly inquire about her progress in rugby, sharing in the excitement of Sarah's aspirations to play for Canada in the 2021 Rugby League World Cup in England.
He would always say, "Don't just say you'll do it, put everything you have into it and I know you will make it." 
Driven by her father's words, Sarah intensified her training efforts and focused on achieving their shared dream. Immersed in music that reminded her of him, she sought motivation to make their dream a reality.
Sadly, in 2021, Sarah's father, Clint Bell, passed away. Despite the immense challenge it posed for Sarah and her family, she refused to let it hinder her pursuit of their dream.
In April 2022, Sarah's dedication paid off when she earned a place on the Canada Ravens' long list and participated in a four-day camp, ultimately receiving her first cap in a game, against the USA Redtails. Sarah cherished this achievement, wishing her father could witness her name on that list.
Believing that her father's presence was felt on the pitch, Sarah's performance soared following his passing.
"I know he's there when I'm on the field," she confides.
In July 2022, after attending a second Canada Ravens Camp in Brampton, Ontario, Sarah was officially selected to be part of Canada Ravens' 24-player roster for the Rugby League World Cup in England. This remarkable news solidified the fulfillment of her and her father's shared dream of representing Canada in the prestigious tournament.
Canada's first match of the tournament was against fourth-ranked Papua New Guinea, a game that carried significant nerves and emotions for Sarah, given the magnitude of her long-awaited dream.
Leading up to the game, Sarah received a comforting sign from her husband. They noticed that the hanging wooden world map in their house, that her father had gifted her, was missing one country – Papua New Guinea. Somehow, the piece had fallen off, prompting her husband to capture the coincidence and send her a picture. It was a sign that alleviated her nervousness, assuring her that she had nothing to fear in facing Papua New Guinea.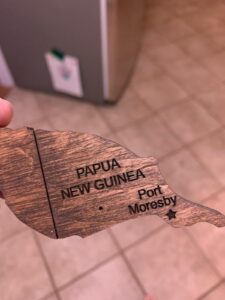 On November 1st, 2022, Sarah took to the pitch at Headingley Stadium, Leeds, for the pre-game ceremony ahead of Canada's match against Papua New Guinea. Overwhelmed with emotion, tears filled her eyes as she stood on the field, holding her children's hands, and gazing into her husband's eyes. He flashed her father's hand signal, and in that moment, Sarah was brimming with pride. The realization that her family had played a crucial role in her journey made it one of the most cherished moments of her life.
On November 9th, a moment that will forever be etched in Sarah's memory, she scored her very first try in the Rugby League World Cup. The exhilarating feat took place during Canada's final match against Brazil.
Sarah reflects on the incredible moment, saying, "Scoring a try in a World Cup was a complete shock. Not in my wildest dreams did I ever think that could be a reality. Then, for that game to end with such a nail-biting play was amazing! It still feels like a dream some days. I have been on a high from that game ever since."
Sarah found the entire process of being part of the Canada Ravens and competing in the Rugby League World Cup to be a profoundly healing experience. The opportunity to represent her country and play alongside her teammates brought immense joy.
Fuelled by her remarkable World Cup journey and the memory of her father, Sarah remains dedicated to the sport she loves. She continues to play rugby league and eagerly awaits the chance to represent Canada once again. Her passion for the game and the transformative power it holds in her life serve as constant reminders of her incredible journey.
In Loving Memory of Clint Bell.
Written by: Shannon Pakulis