Canadians on Fire
Resident expert and Canada Rugby League's High Performance Director, Jamie Lester, provides his opinion on all  rugby league matters.
How good is Canada Rugby League going right now? With so many highlights to discuss, I thought it was only appropriate to dedicate my first piece to our high flying Canadians. Here's my top five Canadian stories from around the rugby league world in the early parts of the 2017 season.
1. Ryley Jacks has burst onto the NRL scene this year with a shock call up to Melbourne Storm's round 1 starting line up. It gave me goose bumps when Vossy called "Ryley Jacks, he's got a story to tell. It's the first time we've called a Canadian international in the NRL." Jacks played for the Canada Wolverines national team in the 2015 World Cup Qualifiers in a draw against Jamaica and narrow defeat to the USA Tomahawks who qualified for the first time. On the weekend, against a fired up Brisbane Broncos, Ryley scored his first NRL try and set up the match winner with a pass bouncing fortuitously off a Broncos defender falling into the hands of Storm flyer Addo-Carr. With an unfortunate jaw break to team mate and would be starter, Cameron Munster, it appears as though young Jacks will have at least another month to ply his trade in the NRL. Good luck son!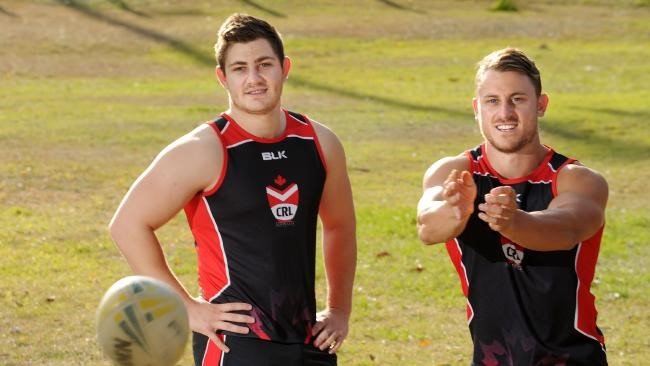 Ryley Jacks (left) with brother Rhys Jacks (right) representing Canada.
2. Anything you can do I can do… just as well. Rhys Jacks, older brother of Ryley, scored his first try of the season, for fledgling Canadian club the Toronto Wolfpack, soon after watching his brother dot down for the Storm. Rhys was at his best for the Wolfpack gaining the 1st star performance in their win against top four Championship side the London Broncos in the 4th round of the Challenge Cup. Rhys featured for the Canada Wolverines as captain in the 2015 World Cup Qualifiers playing alongside Ryley for the first time. Well done Rhys.
3. If any Canadian kid looks like they were built for rugby league, it's Quinn Ngawati. Okay, so as his name might suggest, he's not 100% Canadian, but the self proclaimed Kiwi-Canadian has spent most his life on Canadian shores and has played most of his footy here too. At just 17 years of age, Quinn was one of three players initially signed by the Toronto Wolfpack from the 18 selected to travel to England to play against strong amateurs, Brighouse Rangers. Standing at six foot four, the school boy isn't just an athletic body, he has some silky skills and most importantly, a mature head on his body. Quinn will finish his schooling in Victoria, British Columbia, before joining an English club academy team to gain more rugby league experience. Mom and dad Ngawati must be very proud.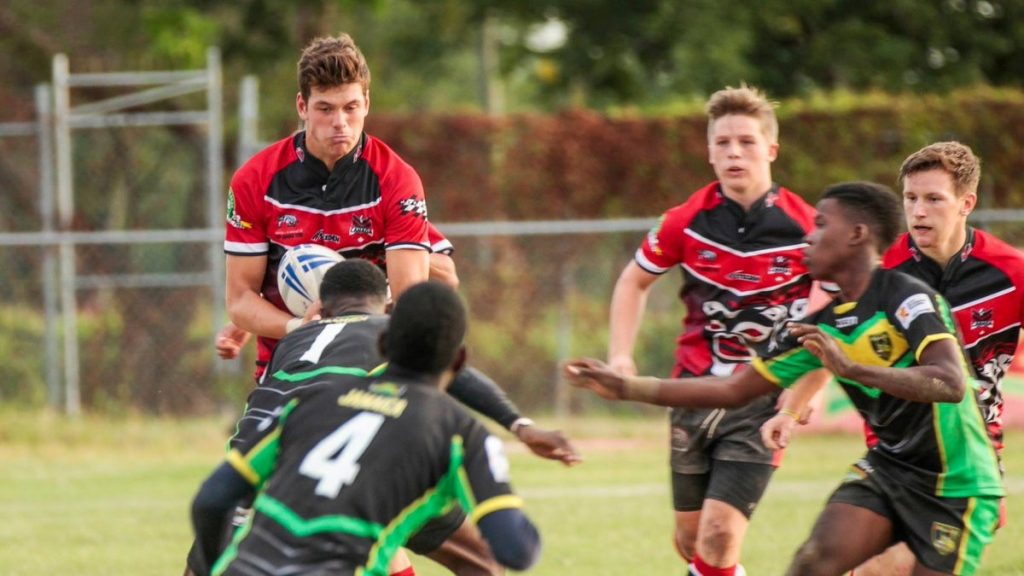 Quinn Ngawati standing tall over Jamaican defenders for the Canada U17 team tour of Jamaica last year.
4. Canada Wolverine Louis Robinson, and Canada prospect Cain Southernwood, have both started their Championship campaigns strongly. Louis plays for League One side, London Skolars, while Southernwood plays for Championship side, Batley Bulldogs. Despite their teams not getting off to the best of starts, Louis was typically tough in the middle of the field in a lopsided loss to the Wolfpack in their season opener. Cain, playing in the halves for Batley, has been a key man for the Bulldogs' resurgence of late with some great ball playing and a creative kicking game setting up tries for his outside backs.
5th and final. If you enjoy your rugby league, you would have watched, read or heard that the Toronto Wolfpack have got off to a sensational start in their inaugural season. After a comfortable win against the London Skolars, they've had some tougher battles against Whitehaven, and in the Challenge Cup versus amatuer club, Siddal, and most recently against Championship side, London Broncos. The Wolfpack will now go into the 5th round of the Challenge Cup to face Super League club the Salford Red Devils. What an achievement. I know the Wolfpack players and staff can't wait for their home opener on May 6, and I can't wait for them to arrive. See you then lads.