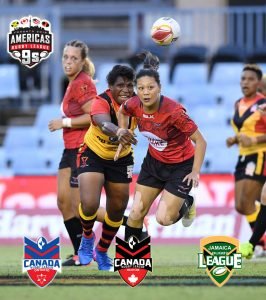 TORONTO – As part of the upcoming inaugural Americas Nines tournament in Toronto on May 18th, 2019, the women's teams have named their rosters. The Canada Selects, Ontario Rugby League and Jamaica Selects will all be participating in the event.
Canada Selects features six Canada Ravens (Tiera Reynolds, Megan Pakulis, Natalie Tam, Fedelia Omoghan, MacKenzie Fane) who participated in the Rugby League Commonwealth Games (9s) 2018 and Rugby League World Cup (13s) 2017.
Ontario Rugby League features many new players to rugby league with background in rugby union 15s & 7s. Four players will be playing Rugby League for the first time, after joining the team practices early this year.
Jamaica Selects led by local Clarence Brown, has recruited players from the Jamaican rugby union team (most from the Toronto area) to learn the sport of rugby league. With both teams expressing interest in the upcoming Rugby League World Cup they are sure to face each other again in  future matches either in 9s or 13s in the next couple of years.
The tournament will be held on Saturday, May 18 at Lamport Stadium, home to the Toronto Wolfpack, with kick-off at 12pm. Tickets can be purchased at eventbrite.ca
Canada Selects 
Head Coach: Andy Ireland
Chelsea Brathwaite
Fedelia Omoghan
MacKenzie Fane
Megean Gosselin
Megan Pakulis
Natalie Tam
Natasha Naismith
Petra Woods
Tamisha Toussaint
Taylor Jordan
Tiera Reynolds
Ontario Rugby League
Team Manager: Avery Akkerman
Ben Skinner
Hailey Karroum
Jessica Cormier
Karlie-Rae Robinson
Krista Kent
Lea Milosevic
Sara Canini
Sarah Galati
Sienna Gulino
Stephanie Hovdestad
Jamaica Selects
Head Coach: Clarence Brown
Amoy Bailey
Chrystal Grove
Davine Burton
Gabriella Brown
Jasmine Hector
Kadesha Esson
Kadina McKenzie
Khadeshia Thompson
Rachel Mighty
Rose Baker
Tamara Dixon
GAME DAY INFORMATION
Date: Saturday, May 18. 12pm kick-off.
Lamport Stadium, Toronto CA
Tickets – Eventbrite
ABOUT RUGBY LEAGUE NINES
Rugby league Nines (or simply Nines) is a modified version of rugby league played with nine players on each side competing over two nine-minute halves. Nines is usually played in festivals, as its shorter game play allows for a tournament-style competition with a champion crowned over the course of a day or weekend.
For media inquiries please contact [email protected]