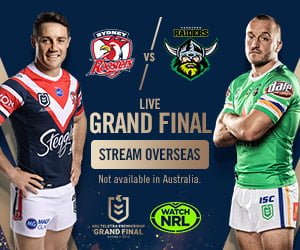 It's here! The 2019 Telstra NRL Grand Final is on this Sunday 6 October with the Sydney Roosters taking on the Canberra Raiders in an unmissable match.
Overseas? Then the best way to watch the game is with the official international streaming service of the NRL, Watch NRL
Powered by FOX SPORTS, Watch NRL allows fans around the world to stream the NRL Grand Final LIVE or on-demand wherever they've got internet outside Australia, New Zealand or the Pacific Islands. And once you've signed up, you can stream instantly.
Stream on your phone, tablet or computer online or using the app, wherever you happen to be when the game's on. But if you think Grand Final footy is best served on the big screen, you'll be pleased to know that with Watch NRL you can stream the NRL Grand Final through your TV using Chromecast or AirPlay.
Watch NRL is available all season, bringing every game of the Telstra NRL Premiership and Finals series LIVE and on-demand. So unsurprisingly as an international service, they offer a range of subscription options that cater to travellers as well as fans living overseas. This year customers can sign up for a monthly subscription for $33 AUD/$30 CDN and get the Grand Final + the Downer Rugby World Cup 9s on 18/19 October.
Watch NRL will provide Canada Rugby League a minimum of 20% of the initial subscription amount to help support us grow the game in Canada, particularly the development of Junior Programs including the Ontario based Georgina Griffins Amateur Rugby League Football Club and Haldimand Wolfpack Rugby League Football Club.
SUBSCRIBE NOW: http://watch.gkhe.net/DJaNo