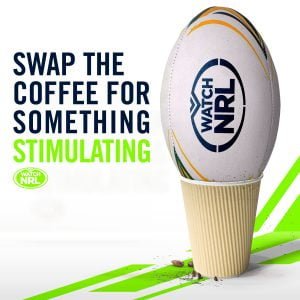 For around the price of a daily cup of coffee, you can stream piping hot NRL action straight from Australia!
Get every game of the Telstra Premiership Season – including The Grand Final and Holden State of Origin – live, on demand and streamed to your favourite devices.
Watch every game of the NRL LIVE and on-demand with Watch NRL and help grow Rugby League in Canada.
20% DISCOUNT. 20% SUPPORT.*
In recognition of Anzac Day, Watch NRL are offering Canada Rugby League Association (CRLA) members and fans for Anzac Day, a 20% discount off their initial subscription amount if you sign up as a new subscriber before midnight on 28 April 2019.
In addition the CRLA is offering four (4) tickets, a $40 value to the Inaugural Rugby League nines tournament featuring men's teams representing Canada, the USA, Jamaica, and introducing Latin Heat that will be played on May 18 at Lamport Stadium. This offer is also available to those that have already subscriber. Just message us showing your proof of your Watch NRL subscription.
Watch NRL will also provide CRLA a minimum of 20% of the initial subscription amount to support us growing the game in Canada, particularly the development of Junior Programs, some of which are already underway.
Don't miss a minute of the action, head to www.WatchNRL.com and sign up now! 🏉🏆 To receive your Watch NRL 20% discount and to help Rugby League in Canada, please follow the link below and enter the voucher code: WATCHNRL20