British Columbian teens playing rugby isn't an unusual thing. Even people with just a passing notion of the game know it's a big sport in B.C. high schools.
But Victoria's Quinn Ngawati is still unusual.
Yes, he's a rugby player, but the kind of rugby he's playing, and the place he's doing it, aren't all that common for Canadian players, especially not ones as young as him.
The 17 year old St. Michaels University School student is one of a group of 18 recruits from the U.S., Canada and Jamaica trying to make Canada's newest professional rugby squad: English rugby league's Toronto Wolfpack. At 6'4″ and already over 200 lbs., you can see why he's an enticing athlete just on paper — and then there's his real-life athleticism.
The expansion team, which is in training camp now and will hit the field for real in March, plays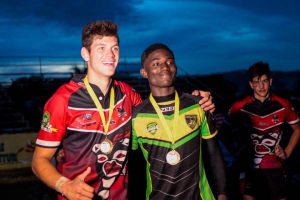 the 13-a-side version of rugby. Canadians are more accustomed to the 15-a-side (or sometimes 7-a-side) rugby union.
For the last three weeks, in the damp and fog of north England, Toronto Wolfpack coach Paul Rowley and his staff have been building a dream.
Assembling a professional rugby league team from the ground up.
"It's interesting because it's so different than anything anybody's ever done before — putting a whole team together from scratch with nothing. Nothing in terms of facilities, nothing in terms of one lad knowing another," said the former England hooker. "It's all so new.
"It's humbling really … It brings you back to when you began playing the sport and why you did and the beauty of it and the love for it. Everyone's training with a smile on their face but ultimately we're working hard because we've got some goals to achieve."
Despite the challenges, there have been no bad moments thanks to the enthusiasm of the group, he says.
"Good moments and bite-your-lips moments," he said.
The Wolfpack, owned by a group of entrepreneurs including Australian David Argyle, are serious about making their transatlantic sports venture work. Playing in the Kingstone Press League 1 — the third tier of professional rugby league in England — they will pay the travel expenses of European teams coming to Canada during the season. The first home game at Toronto's Lamport Stadium isn't until May, the seventh league game of the season.
Ngawati and his rivals have now flown over to the U.K., joining the 24 experienced players already in camp. They have 12 days to show their mettle, and there are no guarantees: Rowley, who will carry 25 to 30 players during the season with 17 dressing for games, says none of the North Americans may make the first team.
The group of 18 will feature in a TV documentary series called The Last Tackle, set to air on North American screens in 2017.
"Being half Kiwi, Rugby and rugby league is just part of who we are," he explained Wednesday via email. "I started playing at the age of seven and am still playing for my local club, Velox Westshore in Victoria."
A tip from his Canada U17 rugby league coach Andy Blackburn connected him with his Wolfpack chance.
"He has taught me a lot about the game," Ngawati said. "His top concern is always for the players and helping them fulfilling their goals."
Ngawati's other rugby inspiration comes from his father, who is of Maori descent and a former rugby league player.
"I am half Maori and am very proud and connected with that part of my culture and heritage," he said. "New Zealand kids usually grow up around touch, and then move into rugby league or union as they grow up. My father was a league player and is very passionate about the game. I have grown up watching the (Australian) NRL since I was a young boy, it is just a part of our household."
Blackburn said Ngawati isn't just a highly talented athlete  — he counts basketball, rowing, roller hockey, swimming and triathlon as other sports he's given a go — he's also supremely focused.
"What sets him apart is his attention to details," the coach said. "He has a routine 48 hours from a match that he never deviates from."
"I haven't seen that in anyone else."
Blackburn recalled a team visit during an August training camp — they played against Jamaica — to the Hockey Hall of Fame in Toronto. There's a interactive goalie game, where you can play goalie against simulated NHL shooters.
"Most kids just jump in and have a go, but Quinn was methodical," he said. The other boys kept encouraging Ngawati to have a go, but he kept saying, "not yet," Blackburn said. "He was studying where the shots were likely to come from; when he finally gave the game a go, he got a high score."
Ngawati's combination of youth, skill set and physical intelligence suggests big things to come. But he also has ambitions to become a pilot. It's going to be an interesting year to come for him.
He's also still keen to have a go at rugby union, the game he's played the most.
"Having the chance to play for my country has always been a goal and I have recently been lucky enough to be selected to the Canada U19 rugby union team, so I'm still very involved with that pathway," he said.
He spent his grade 10 year in New Zealand, where he attended famed rugby school Hamilton Boys High. It raised his understanding of the game to a new level: "My rugby during this time improved dramatically, due to the coaches, the level of play, the rugby culture, and the hard work required to compete on the teams I was lucky enough to be a part of." He was selected for the Waikato U16 provincial team while he was there.
"At this point in time I have found rugby league to be a style of rugby that fits me better and I am excited to see where this opportunity will take me," he said, reflecting on all the high level rugby he's been exposed to. "Each of these experiences is a great opportunity to develop my game, and I am very thankful to have played on each of these teams."
— with files from The Canadian Press