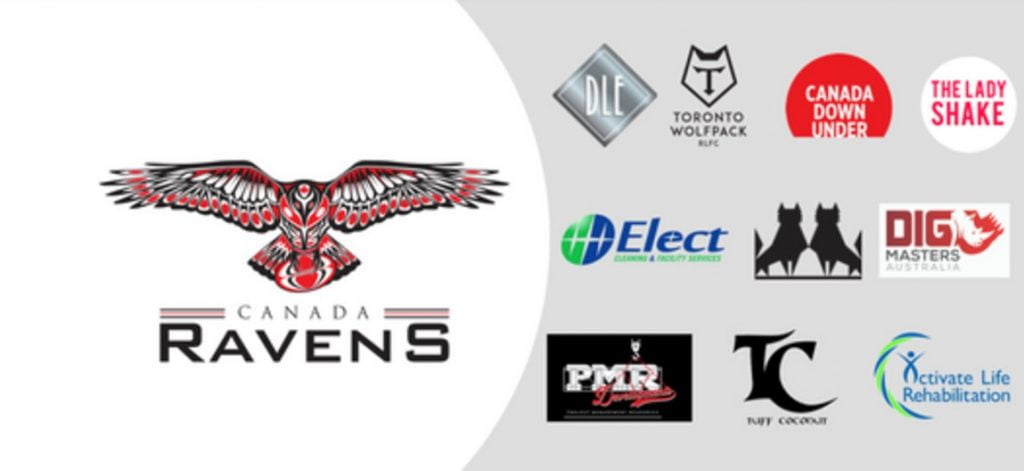 By Julian Clarkstone

With preparations for all teams now in full swing before the Rugby League World Cup in November, the Canada Ravens coaching staff and players are fully focused on the road ahead, which includes trial matches and selection trials, then followed by more training and trial matches in Australia in November.
With so much happening for the team ahead of its first Rugby League World Cup, the sponsors of the Ravens who have come on board have contributed immensely to the team's ability to be best prepared for the World Cup.

Ravens Head Coach, Mike Castle, is now given the opportunity to further prepare the team in Australia, largely due to the support of the team's sponsors.
"Without the support of our sponsors it would be impossible to bring our squad together prior to the World Cup."
"Now we will be able to bring everyone to Australia sooner and go into camp at the Runaway Bay Sports Super Centre on the Gold Coast, allowing the team to acclimatise and prepare as best we can for the competition."

Canada Ravens would like to thank the following sponsors for their generous support of the team in their endeavours for success at the Rugby League World Cup.

Activate Life Rehabilitation
Founded  by the Ravens' Head of Physical Performance Hayden Fisher, Activate Life Rehab offers exercise physiology & physiotherapy services right across Australia.
Canada Down Under
Canada Down Under is an on-line portfolio of Canadian-Australian stories produced by the Consulate General of Canada in Sydney and other contributors. Canada Down Under est un portefeuille en ligne d'histoires canado-australiennes produites par le Consulat général du Canada à Sydney et d'autres contributeurs.
David Lovell Events
David Lovell Events is your premiere choice of catering staff in Toronto and the surrounding area, offering experienced and professional bar and wait staff for events ranging from large corporate event to small private functions.
Digmasters Australia
Digmasters Australia are excavation specialists who service in detailed excavation, demolition and strip outs as well ass labour and truck hire across Sydney, Australia.
Elect Cleaning
Elect Cleaning offer cleaning and facility services across Sydney, Australia. The Company's Founder, Jarrad Hickey, is the brother of the Ravens' Assistant Coach, Ben Hickey, and Jarrad a former professional Rugby League Player for the Canterbury Bulldogs.

The Lady Shake
Owned by former Australian Rugby League International, Adam McDougall, the Lady Shake & the Man Shake offer healthy meal replacement shakes. Their products have taken Australia by storm!

PMR Developments
A long term supporter of Canadian Rugby League, Paul Ruri and PMR Developments offer small business operators a service in safety advisory, risk assessment training and compliance to improve Workplace Health & Safety and are based in Brisbane, Queensland.

Toronto Wolfpack
The Toronto Wolfpack is a professional Rugby League team dedicated to progressing through the RFL's ranks, from League 1 to the Super League. The Wolfpack are Canada's first professional Rugby team, and the world's first transatlantic major professional sports team. Our home matches will be held at Lamport Stadium aka "The Den".
Tuff Coconut
Tuff Coconut is your specialist in providing top quality, unique and customised solutions tailored to your specific needs.
Two Wolves Brewing Company
Two Wolves Brewing is an authentically Canadian brand. It is no secret that we Canadians love beer, the outdoors, sharing stories about our adventures and all that life in this vast and diverse country offers. Both the Arctic Blonde Ale and the Great Plains Brown Ale are well-balanced, smooth and easy to drink, complementing any adventure you are on.