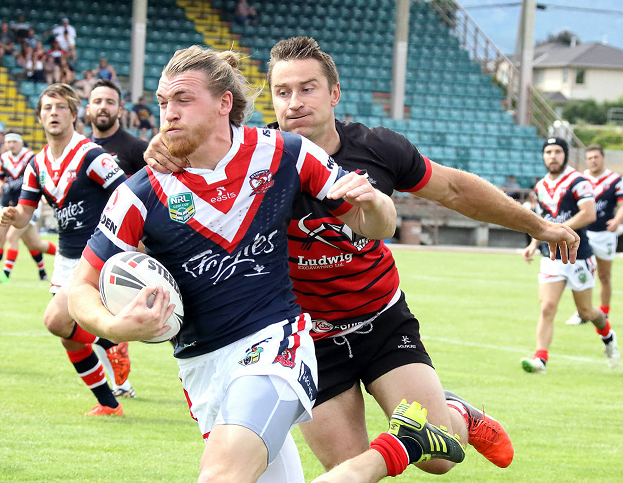 Kelowna Roosters' Jeff Lohse escapes the grasp of an Abbotsford opponent in B.C. Rugby League action Sunday at the Apple Bowl. -Image: Warren Henderson/Capital News.
Kelowna and Capilano secure bragging rights for round 1 after wins against Abbotsford & Vancouver in Rugby League action on the weekend.
In their inaugural home opener in the B.C. Rugby League, the Roosters subdued the Abbotsford Griffins 44-12 Saturday afternoon at the Apple Bowl. Kelowna's Jeff Lohse and Tom Rosewarn spearheaded the attack for the home side with two tries apiece. The Roosters jumped on top quickly, scoring the game's first four tries to make it 22-0, then taking a 28-6 lead into half time.  Kelowna added three more tries in the second half to earn a convincing victory in the 2017 season opener.
Kelowna product and member of the Canada Wolverines national squad, Jeff Lohse, talled the most impressive try of the day, picking up a kick from Abbotsford on his own tryline and racing 100 metres down the field to score under the posts in the second half. Roosters hooker Tom Rosewarn was named Kelowna's game MVP. Kelowna's next home game is June 24 at the Apple Bowl against the Vancouver Dragons.
On Friday night, Stanley Park witnessed the much anticipated "Battle of the Bridge" at Brockton Oval. A good start from the new look Dragons side had Premiers, Capilano chasing at the half time break. A pair of tries by Dragons pair Lemar Hoinville  and Adriaan Mering put the Dragons well and truly in the hunt. However it was the Cougars who would have the last laugh, chasing down the enthusiastic Vancouver outfit and reasserting their recent dominance of the BCRL competitors.
David Graham, BCRL President remarked on Round 1; "We've had a great start to the 2017 Milestones Championship. Our competition is growing and so are the skills of our athletes. Expect 2017 to go right down to the wire, these teams mean business!".
This weekend, the Roosters will travel to North Vancouver to take on the Capilano Cougars who haven't been beaten in two years in BCRL Championship play. Vancouver will have the Bye as Ben Hickey's new look Valley Warriors take the field at against Abbottsford.