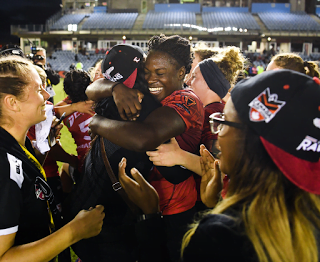 In a day of many firsts for Rugby League in Canada, the Ravens have defeated the Papua New Guinea Orchids 22-8 in the Rugby League World Cup.
The Ravens won their first ever international match, which was also the first ever win for Canada in the Rugby League World Cup and Natasha Smith scored the Raven's first ever hat trick in the victory!
Canada started with more discipline than their previous matches, but the Orchids withheld the pressure to score the first try after 12 minutes, leading 0-4.
After 25 minutes Natasha Smith took initiative from dummy half, scoring her first try and the Ravens took the lead after Irene Patrinos converted the goal.
Smith then scored in very similar fashion five minutes later, running the ball from dummy half again, which took the Ravens to a half time lead of 10-4.
The half time message from coach, Mike Castle, was to keep playing the same way, working hard in defence and playing smart with the ball.
Early into the second half the Orchids struck back, scoring on their left side once again to take the score to 10-8.
The game was in the balance for a short while, before Stevi Schnoor kicked a ball into the in goals, which sat up for half back, Sabrina McDaid, to catch the ball and score under the posts.
The Ravens then kept the Orchids in their territory for the last few minutes, applying plenty of pressure.
With a few minutes to go the Ravens sent the ball across the field from right to left, with Smith scoring her third try of the night, which was once again converted by Patrinos, taking the score to 22-8.
On the fulltime siren the entire squad ran onto the field, embracing after realising they'd just won Canada's first ever Rugby League World Cup match!
Castle was expectedly pleased with the win, saying "the team has been improving with each performance and this was the best game we've had so far."
"I'm very proud of the team, winning their first international game after only a few months of preparation, it's a fantastic team achievement that we'll enjoy before turning our attention to the next match against Australia!"
The Ravens will play the Australian Jillaroos on Wednesday, with the Jillaroos yet to lose a match after defeating the Cook Islands and England.
Canada – 22
Tries: Smith 3, McDaid 1
Goals: Patrinos 2, McDaid 1
Papua New Guinea – 8
Tries: Bulhage 1, Karl 1