Kathleen Keller has been selected to travel to Australia for the 2017 Rugby League World Cup with the Canada Ravens.
In doing so she will become the first and only representative (female or male) from Quebec to play for Canada in an international Rugby League match.
Whilst the Ravens are ready for their inaugural World Cup, there's no doubt that the legacy the team creates is equally as important as the tournament itself, which can hopefully introduce more talented athletes from Quebec and other parts of Canada to Rugby League.
"I'm already excited to go home and tell people to come and try their hand at Rugby League."
"I like that the game is fast-paced and dynamic and I also really enjoy learning about the new strategy."
"I can tell you first-hand that Quebec has several quality players that would excel."
"The province of Quebec has proven in the last few years to have one of the best Rugby Union programs in the country and some of the best athletes, last year we were national champions at 15s rugby," Keller stated.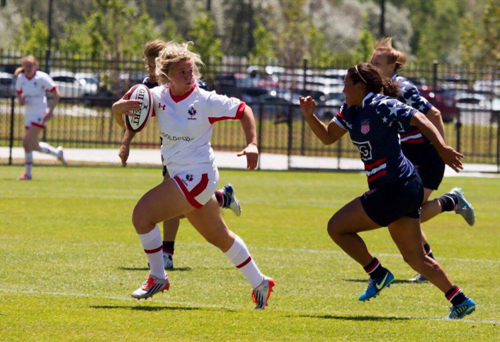 Keller is a great example of the talent held in Quebec, having represented Canada's Rugby Union side at senior and under 20s levels, was a part of the tour to Russia with the FISU Universiades in 2013 and also captained Rugby Quebec in both 7s and 15s formats of rugby union.
Injuries dampened Keller's hopes of representing Canada's Rugby Union side at a World Cup, but she will finally get the opportunity at the Rugby League World Cup, which will commence on November 16 against New Zealand.
"The opportunity to be able to represent Canada at the Rugby League World Cup as a women's Rugby League pioneer is tremendous and is really just a surprise."
"I am nearing the end of my athletic career and it just feels like it is meant to be after the culmination of so many years of hard work," Keller said.
Whilst the sense of achievement and excitement seems to be at the forefront, Keller is well aware of the challenges the Ravens will face, coming up against Australia and New Zealand, the finalists of the last World Cup, as well as Papua New Guinea, where Rugby League is the national sport.
"I expect this World Cup to be a learning experience for us but I also think we need to dare to believe that we can do great things on this tour."
"We are inexperienced at league but we do have some talented and seasoned union players, so the skill level is there."
"Now it's a question of testing how fast we can adapt to a different code of rugby and I think we have to expect a lot from ourselves if we want to play on the world stage," Keller exclaimed.
Keller's versatility could see her play in several positions for the Ravens, but regardless of where she plays on the field she will be taking a leadership role with the side as one of the more senior players.
It's also through playing rugby that Keller has learnt some valuable lessons that she will be able to pass on to her team mates as they look to develop Canada into a strong Rugby League nation.
"I'm a very competitive person and I think also a natural leader, but I used to think there was only one form of leadership and it was just to be extremely demanding and hard."
"Through rugby I learned that sometimes people just need to feel heard, get few words of encouragement or a pat on the back rather than a kick in the behind and learning to read those moments has really helped me connect with teammates over the years."
"I also learned  it is the best way to get people to give the best of themselves," Keller said.
Canada Rugby League are looking forward to seeing what Kathleen Keller will bring to the Ravens side and wish her all the best heading into the 2017 Rugby League World Cup.