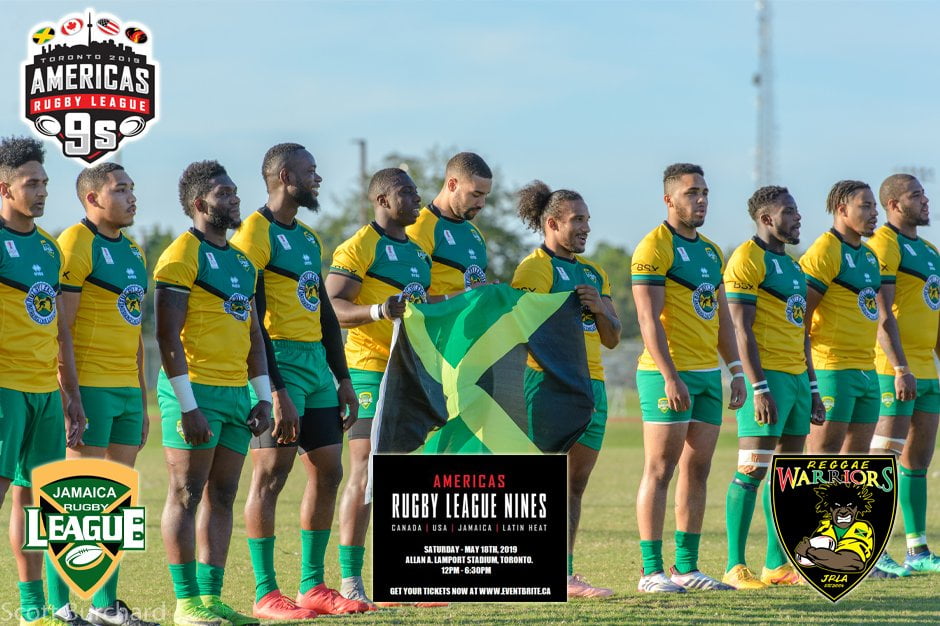 Jamaica Rugby League Head Coach, Romeo Monteith, has named a 17-man squad to participate in the inaugural America's 9s Championship in Toronto, Canada on Saturday, May 18.
Jamaica is expected to face Canada at 12:20 p.m., USA at 2:20 p.m., and Latin Heat (a combined South American Team) at 4:15 p.m.
Several players based in Jamaica and Canada are to make their first international appearance. Domestic players making their debuts for Jamaica include teenagers Kahil Green, Makhaya Anderson and Lawrence Drummond.  The trio has been some of Jamaica's top high school players for the past three years, and has been rewarded with a call-up to the senior Nines team.
Also making their debuts will be two army men, in Jerome Laird and Roland Grey. Both have been impressive for the Jamaica Defence Force (JDF) team in recent seasons, and are expected to add some firepower to the squad in the speed department.
Other local-based debutants are Daniel Morrison and Chawn Henry. Both were former standout youth players at Calabar High and Edith Dalton High, and have transitioned to the senior club competitions.
Mohenjo Thompson and Uriah Martin are the two players based in Canada who will don the Reggae Warriors' colours for the first time. Thompson has plenty of experience, as he is one of the few remaining players who played in the first ever rugby league club competition on the island in 2005.
The familiar faces in the squad are Adrian Hall, Greg Hall, Antonio Baker, Demone McDougal, Orlando Jones, Nicholas Wright, Chevaughn Bailey and Tyronie Rowe.
The team is also travelling with a match official in Kemoy Whyte, who is expected to take the middle in some of the tournament's games.
In addition, Jamaica will look to put together a female representative team of players based in Canada to face Canada and Ontario Select teams in exhibition matches.
According to Monteith, blooding the next set of domestic standout players is a key focus of this campaign.
"The team is looking forward to a good tournament. We have deliberately gone out for some younger players, as we have begun the revitalisation of our programme, the next generation of Jamaica rugby league stars is now, so young players such as Anderson, Drummond and Green, are our future.
"Our veterans will provide plenty of guidance, and we are looking forward to a good tournament. We are also excited by the potential to field a female representative team in the tournament. It's the ambition of all the nations involved to establish full international female teams in the next few months."
Jamaica Reggae Warriors National Nines Squad
Chawn Henry (Caribbean Maritime Institute Spartans), Makhaya Anderson ( Calabar High School), Antonio Baker (Cedar Grove Cyclones), Kahil Green (Excelsior Community College), Chevaughn Bailey  (GC Foster Lions) Lawrence Drummond (Kingston College), Jerome Laird, Roland Gray (Jamaica Defence Force Warriors), Daniel Morrison, Demone McDougal , Mohenjo Thompson (Washington Blvd. Bulls), Greg Hall, Orlando Jones , Tyronie Rowe, Uriah Martin (unattached), Tremaine Garrison (Reserve)
Experience a full festival atmosphere, non-stop action. Try out some exceptional craft beers in the The Craft Guys renowned Beer Garden whilst cheering on the Reggae Warriors, Canada Wolverines, USA Hawks and Latin Heat as the men's national teams battle for the title of Americas Rugby League 9s Champions as well as some of Canada's and the World's best women's Rugby League players as a Canada Selects invitational team including stars who represented Canada so proudly and well at the 2017 Women's Rugby League World Cup in Australia take on the best of Ontario and a Jamaican heritage side.
Tickets are only $10 for Adults, while kids Under 16 are free!!!. Complimentary tickets are also available for all Toronto Wolfpack season ticket holders.