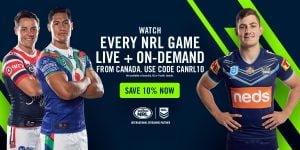 Watch every game of the NRL LIVE and on-demand with Watch NRL and help grow Rugby League in Canada.
10% DISCOUNT. 20% SUPPORT.*
For a limited time only, Watch NRL are offering Canada Rugby League Association (CRLA) members and fans a 10% discount  off their initial subscription amount if they sign up as a new subscriber before 30 April 2019.
Watch NRL will also provide CRLA a minimum of 20% of the initial subscription amount to support us growing the game in Canada, particularly the development of Junior Programs, some of which are already underway.
To receive your Watch NRL 10% discount and to help Rugby League in Canada, please follow the below link and enter the voucher code: CANRL10
Subscribe now: //watch.gkhe.net/c/1401402/576933/9389
WATCH EVERY MATCH, LIVE AND ON-DEMAND
• 2019 NRL Telstra Premiership, including Finals and Grand Final
• Every Gold Coast Titans match including our very own Ryley Jacks, former Canada Wolverines star.
• Holden State of Origin Series
• On your compatible phone, tablet, computer or TV using Chromecast or Airplay.
• Choose where and when you want to start watching and hide scores so you don't spoil the result before you watch.
ACCESS 24/7 FOX LEAGUE CHANNEL
Enjoy in-depth and left-field analysis across the range of shows available on Australia's only dedicated Rugby League channel, FOX League.
STREAM FOR A WEEK OR YEAR, ALMOST ANYWHERE
Watch NRL offers weekly, monthly or annual subscription options – the annual representing the best value. It's available to use anywhere outside of Australia, New Zealand and the Pacific Islands, whenever you have access to the Internet.
*Discount will be on first subscription payment only, and subscription will auto renew at full retail price, unless cancelled prior. Discount Period: Valid from April 2, 2019 to April 30, 2019