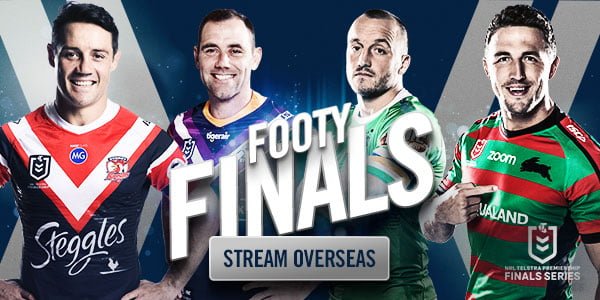 Rugby league fans in Canada and those who've had to stray from their motherland this September, need to get themselves a WatchNRL subscription and get ready for a HUGE month of footy.
With the top 8 only decided in the final round, and a close round of contenders for the bottom 4 spots, it's looking great for an interesting Finals Series. And WatchNRL has every game of the Finals Series (including the Grand Final) LIVE or on-demand.
Being a streaming service, you get the benefit of watching the game on your term; on your favourite compatible device. Prefer to watch on the big screen? No problems. Just play it through your compatible TV using Chromecast or Airplay.
WatchNRL is the official international streaming service of the NRL, but is not available in Australia, New Zealand or the Pacific Islands. It offers a range of subscriptions options from weekly to a better value 12-month subscription. Right now, there's even a Finals pass available for just $85 AUD/$78 CDN giving you access to the service throughout the entire Finals Series.
The 2019 Telstra Finals Series kicks off this weekend – check out our world clock kick off times to see what time the game starts in your part of the world.

Not prepared to stay up for the game? No problems, all the games are available on-demand, so you can watch the game when you're ready. Just don't forget to turn on the hide scores feature so you don't know the result before you want to!
Watch every game of the NRL Finals LIVE and on-demand with Watch NRL and help grow Rugby League in Canada.
Watch NRL will also provide the CRLA a minimum of 20% of the initial subscription amount to support us growing the game in Canada, particularly the development of Junior Programs, which are already underway with the Ontario based Georgina Griffins RLFC and Haldimand Wolfpack RLFC.
Subscribe now: http://watch.gkhe.net/DJaNo