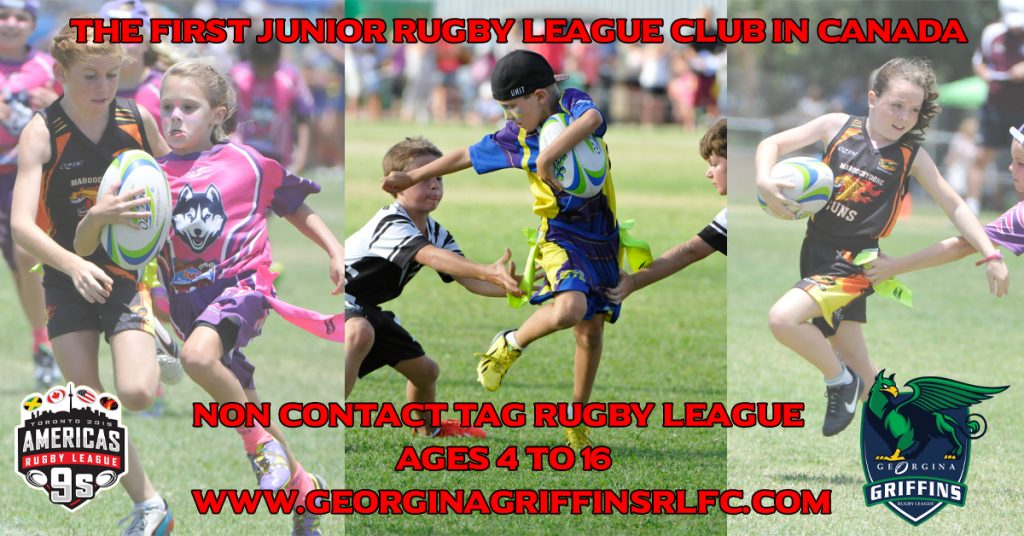 The inaugural Americas Rugby League Nines Festival will also feature a Junior Rugby League Tag exhibition at approximately 1:45 pm by the Georgina Griffins ARLFC, the first junior club in Canada.
Founded by incredibly enthusiastic and dedicated husband and wife team, Mark Forde and Marcella Calabrese who were introduced to Rugby League as spectators at a Toronto Wolfpack game, the Griffins are in their inaugural season with more than 50 kids signed up for their programs.
Junior Development is a prime focus of Canada Rugby League Association President, Bob Jowett;
"We want to broaden the scope and get more people playing all forms of the game: Wheelchair, Tag Rugby, and Masters. People ask why numbers are dropping in the UK but you've got to get kids playing, as well as the full contact game, in my opinion more effort should be spent in growing Tag Rugby League. The reason, once you've got the Rugby League bug, it's hard to lose it.
If you can get kids actively involved at an early age the vast majority will keep an ongoing interest in the game."
There are also ongoing efforts to set up a junior club in Caledonia, south of Hamilton, and there's a school event being set up in Barrie in June that will hopefully result in the formation of another junior club."
Bring the kids along and experience a full tournament atmosphere, non-stop action and see the present and future of Rugby League in Canada.
Tickets are only $10 for Adults, while kids Under 16 are free!!!.
To purchase tickets please click here; http://ow.ly/3vPC50u3Ros
For more information on the Georgina Griffins, please visit their website at www.georginagriffinsrlfc.ca. You can also find them on Facebook @georginagriffinsrlfc and Twitter.