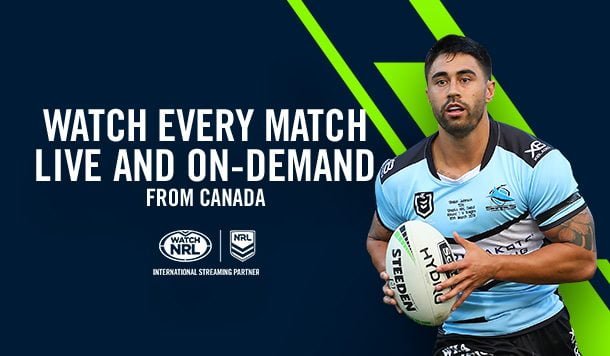 Canada Rugby League is THRILLED to announce a new partnership with WATCH NRL! Powered by FOX SPORTS, WATCH NRL is the official international streaming partner of Australia's National Rugby League (NRL).
We are proud to announce that winning team of the Americas Rugby League Nines Tournament this Saturday 18th May will receive 10 Free WATCH NRL 12-month subscriptions!
WATCH NRL brings the NRL competition to fans around the world with every match of the NRL Telstra Premiership Season streamed LIVE or on-demand, as well as:
· The entire STATE OF ORIGIN series
· Selected Test and Preseason matches, Canterbury Cup and NRL Touch Premiership matches
WatchNRL is available on your PC/Mac via www.watchnrl.com and on iOS and Android mobile and tablet devices via the WatchNRL App. Watch on your TV with Airplay or Chromecast (supported platforms) or via the WatchNRL Apple TV app
*WATCH NRL is only available outside Australia, New Zealand and the Pacific Islands – Fiji, Samoa, Tonga, the Cook Islands, East Timor, Solomon Islands, Niue, Nauru, Vanuatu, Kiribati, Northern Marianas, Tokelau, Tahiti, Tuvalu, New Caledonia, American Samoa, Marshall Islands, Palau, and Federated States of Micronesia, Papua New Guinea, Wallis and Futuna, Iles Esparses and French Polynesia.
For further information, contact:
Charlie Howard, Watch Team, WatchNRL
[email protected]sports.com.au
Website: www.watchnrl.com
Facebook: @WatchNRL
Instagram: @WatchNRL
Twitter: @WatchNRL
Hashtag: #WatchNRL