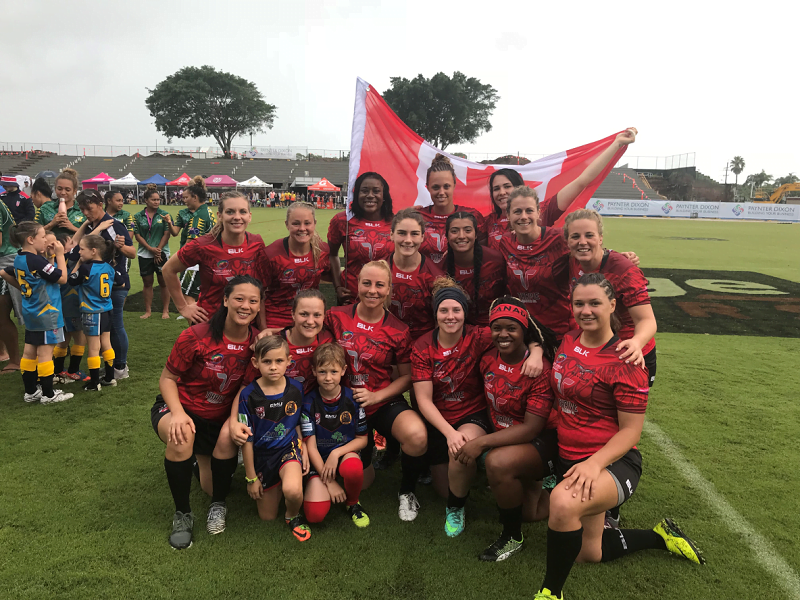 After spending four days training for the 2018 Rugby League Commonwealth Championships, the Ravens took to the field in Moreton Bay (Queensland, Australia) against Tonga and the Cook Islands in the nine-a-side tournament.
Day one didn't go as hoped for the Ravens, losing both matches, but the side showed plenty of promising signs which can give them confidence going into their final match against Fiji tomorrow at 1:50pm.
Head Coach, Mike Castle, can see that the side is continuing to improve and will learn from each match, saying "we had moments of brilliance throughout the games, however it's all still very new and we still have things to improve on."
Match One – Canada vs. Tonga: 4-8
The Ravens started the match confidently, earning position in attacking territory before shifting the ball to the right, finishing with Maira Acevedo scoring untouched in the corner.
The team continued to look strong after a break from Tiera Thomas-Reynolds on the left, though the Tongans neutralised the game soon after, scoring off a kick into the in-goals which took the game to 4-4 at half time.
The game then went back and forth in each team's half and despite the rainy conditions both teams made few errors.
With the game in the balance Tonga took a long range kick, regathered and scored under the post at full time to win the match 8-4.
Match two – Canada vs. Cook Islands: 20-12
The Cooks Islands scores early in this clash with a long range try on the left, which was not converted.
The Ravens managed to hit back quickly, with a shift to the right, a pass going to ground and then Alanna Fittes regathered the ball, beat her opposing winger and ran to the try line to level the score.
The Cook Islands playmaker then took control on the right, running the back close to the try line and scoring on the right before the pendulum swung once again with the Ravens using quick hands to get the ball to Reynolds who ran 70 metres to score.
The Cook Islands managed to take the lead once again before half time, with their playmaker heading right once again and grubber kicking the ball for her winger to score, taking the game to 12-8.
The Cook Islands took a two try lead early in the second half with their playmaker kicking to the full back who scored under the post.
Janai Haupapa scored next for the Ravens down the right edge, palming off the winner before running in-touched down the sideline.
With four points separating the two sides, the Cook Islands worked hard to grind out the game, scoring one final try to win the game 20-12.
Day Two:
To watch Canada's final game against Fiji visit https://www.visitmoretonbayregion.com.au/rugby-league-9s