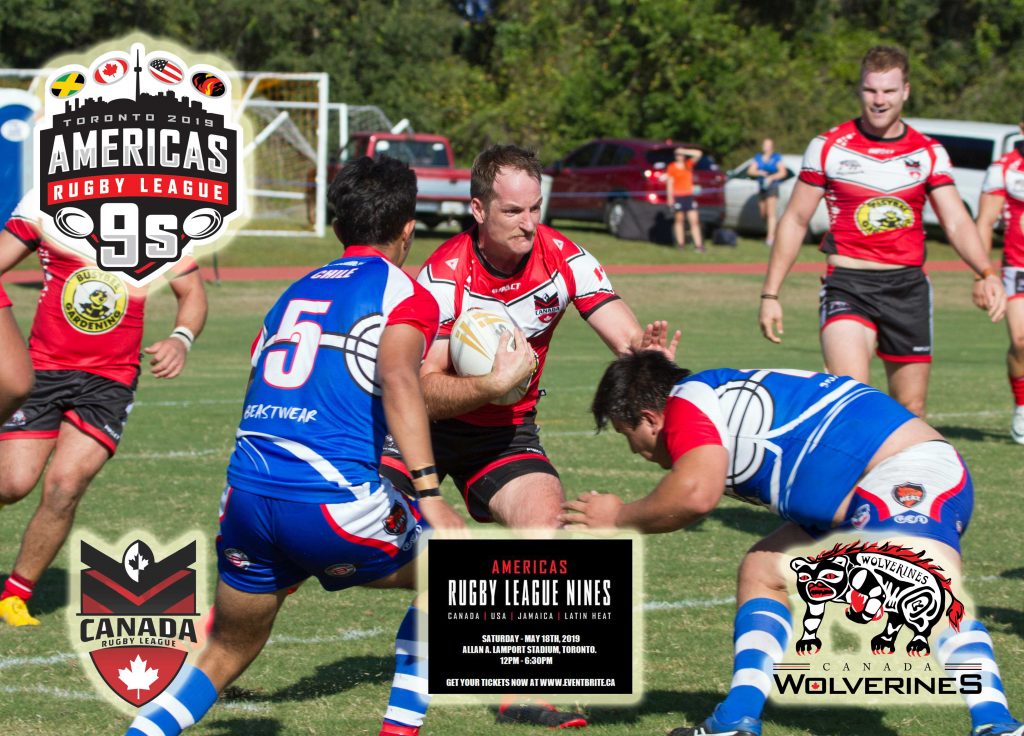 TORONTO – Team Canada has announced its roster for the national men's team (Canada Wolverines) inaugural Americas Rugby League Nines Festival in Toronto on May 18th, 2019. Canada will host three fellow Americas teams, USA and Jamaica along with Emerging Nations side the Latin Heat.
Wolverines' coach Benjamin Fleming, is excited for the event and promised a number of great matches for fans to enjoy. "As we grow rugby league in Canada, opportunities such as this provide important international match experience for our athletes to develop their skills on the field. The quick format of the tournament provides for high-risk, high-reward plays which challenge our athletes, while providing top notch entertainment for spectators," Fleming added. Eddie Bilborough has been named Captain for the Wolverines in the Nines tournament.
The tournament will be held on Saturday, May 18 at Lamport Stadium, home to the Toronto Wolfpack, with kick-off at 12pm. Tickets can be purchased at eventbrite.ca
WOLVERINES ROSTER
David Astley – Ontario
Scyler Dumas – BC
Jason Park – Ontario
Ray Bissonette – BC
Steve Piatek – Ontario
Michael Mastroianni – Ontario
Danny Tupou Kaloudonu – Ontario
Nick Hails – Ontario
Emil Borggren – Ontario
Mikkel Borggren – Ontario
Steven Adu – Ontario
Ethan Langs – Ontario
Andrew Porter – BC
Eddie Bilborough – Ontario
Andrew Giguere – Ontario
Charles Curran – Ontario
Tony Felix – Ontario
18th man: Kyle Yurkiw – Ontario
19th man: Jonah Bachtiar – Ontario
GAME DAY INFORMATION
Date: Saturday, May 18. 12pm kick-off.
Lamport Stadium, Toronto CA
Tickets – www.eventbrite.ca
ABOUT RUGBY LEAGUE NINES
Rugby league Nines (or simply Nines) is a modified version of rugby league played with nine players on each side competing over two nine-minute halves. Nines is usually played in festivals, as its shorter game play allows for a tournament-style competition with a champion crowned over the course of a day or weekend.
For media inquiries please contact [email protected]