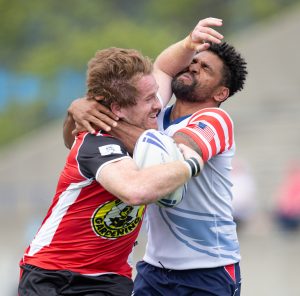 TORONTO – Fresh off hosting the United States and Jamaica at the Rugby 9's tournament in Toronto, the Canada Rugby League Association (CRLA) has announced that the national men's(Wolverines) and women's (Ravens) teams will be travelling to Serbia September 12-22, 2019, to compete in five matches. It is the first time Canada has faced Serbia, and travelled to the Balkans.
The tour is another step by the CRLA, in the more ambitious approach launched in 2019, to increase the visibility of rugby league in Canada, and build the skillset of the national teams.
"I think having a tour each year, promoting brand awareness and getting our team out onto the world stage and playing different countries might create the difference that we're looking for," said Head Coach Ben Fleming. "We need players in the system and sometimes the biggest struggle that we have is getting players to training consistently because the geography of our country is so big. So, going on tours and having them eat, sleep and play together for ten days is something that we want to work towards," Fleming added.
The tour also marks the start of the men's (Wolverines) and women's (Ravens) teams travelling together, allowing for equal opportunities between squads, and the ability to pool resources.
The matches kick off the start of the Ravens preparations for their 2021 Rugby League World Cup appearance in England. The Ravens are currently ranked 4th globally.
For media inquiries please contact [email protected]
Please show your support by donating to: