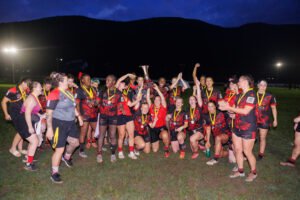 KINGSTON, JAMAICA – Canada won the inaugural Women's Americas North Championship with a comprehensive 64-2 triumph over hosts Jamaica at a thundery MONA Bowl at the University of West Indies in Kingston. The Ravens ran in 12 tries in a match that was delayed and then interrupted by storms, the sides brought off in the first half for 15 minutes because of lightning.
Canada got off to the perfect start, stand off Dani Franada – who finished with 20 points including eight goals – charging down a clearance kick and winning the race to the ball. They added a further five tries in a 12-minute purple patch before the break, winger Ferris Sandboe and Fedelia Angeles, who was excellent off the bench, with the first of their two each.
The Ravens dominated each half, fullback Petra Woods also claiming a brace. Jamaica, in only their second game, kicked a penalty three minutes from time following an obstruction as a reward for their efforts in the tough conditions.
Angeles said: "I want to thak Jamaica for hosting an amazing tournament. It's a privilege to have been playing here with the Ravens. We're working so hard to grow our domestic league back home and this helps us to keep moving forward."
Her head coach, Mike Castle, added: "After a really scrappy start we were able to regain our composure and put in a solid performance. It was stop-start thanks for the weather, so I was happy we were able to stay switched on. To be the inaugural America's north champions is a great reward for all the hard work we put in. We have really enjoyed our time in Jamaica and look forward to continuing this rivalry."
Jamaica's scrum half, Alicia Richards, who has been instrumental in establishing women's rugby league in the nation, noted: "I'd like to thank all the fans, my team mates and the administrative staff for their efforts. We want to grow the sport for women with more exposure, sponsorship and people playing and this has been a great start."
Captain Shanique Smith said: "We put up a great fight and I'm proud of all the girls for going up against the seventh ranked team in the world. We exceeded our expectations considering we had only three months to prepare, and both games showed promising development. We will become a strong contender in the years to come. I can see how we've improved since the first game against the USA. We went back to the drawing board and addressed some of our errors, which showed in the second game. Many of our players are young, so we anticipate significant growth."
Match Report from European Rugby League