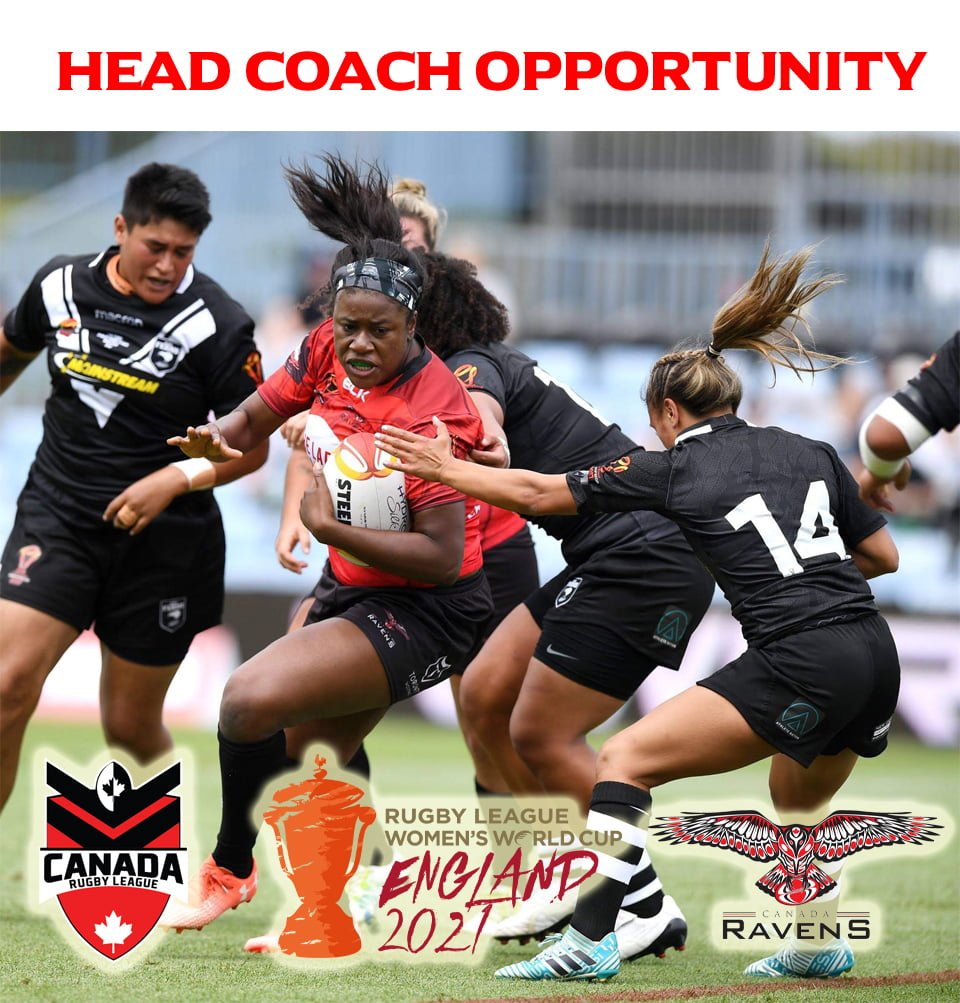 With the recent announcement that the Canada Ravens would be one of eight nations participating in the Rugby League World Cup 2021 (RLWC2021), the Canada Rugby League Association (CRLA) invites suitably qualified candidates to apply for the position of Canada Ravens National Women's Team Head Coach. Further details are available in the Job Description below, which can also be downloaded by clicking on the following link; Canada Ravens – Head Coach Job Description.
THE CRLA is the governing body for the sport of Rugby League Football in Canada. Founded in 2010, the CRLA organizes the Canada Wolverines the national men's and Canada Ravens women's rugby league teams and supports the development of the game through the country's domestic and junior competitions.
All applications are due by midnight (EST) on Friday, August 16.
We thank all applicants for their interest however only those applicants selected for further consideration will be contacted.
IMPORTANT
This is an open position and, as such, is subject to relevant discrimination policies including those from the CRLA, the RLEF, the RLIF, Canadian Provincial and Federal governments.
Whilst the Nominations Committee seek suitable candidates, and during CRLA Board review of nominations, every effort shall be taken to avoid discrimination based on race, gender, sexual orientation, age and any other factors/traits detailed in above mentioned discrimination policies.
Candidates will be subject to the CRLA Screening Policy which requires provision of two references.
As it is considered possible that the Canada Raven National Women's Head Coach will come into contact with vulnerable persons (e.g. players aged under 18), vulnerable sector or similar police checks (from all countries that candidates have resided in since reaching age 18) will be required prior to appointment.
ABOUT THE CANADA RAVENS
Known as the Ravens, the Canada Rugby League women's team have represented Canada in senior & junior women's rugby league football competition since the re-establishment of rugby league in Canada in 2010. Administered by the Canada Rugby League Association, the Ravens are currently ranked 4th in the RLIF World Rankings.
ABOUT RUGBY LEAGUE WORLD CUP 2021
The Rugby League World Cup is the pinnacle major event of rugby league, globally contested every four years.
England 2021 will be a breakthrough moment in the tournament's history with the men's, women's and wheelchair rugby league being staged together for the first time.
RLWC2021 will be the most visible rugby league event in history with all 31 games in the men's competition being broadcast live on the BBC and every second of the women's and wheelchair competitions free to watch online.
Canada Ravens - Head Coach Job Description