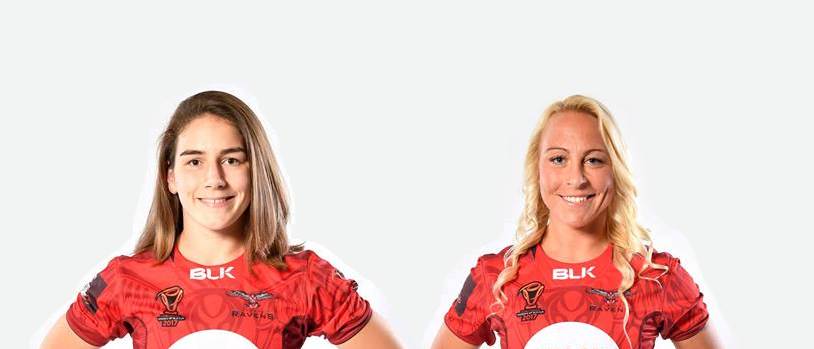 The Canada Ravens have named their new co-captains ahead of the 2018 Rugby League Commonwealth Championships, with Head Coach, Mike Castle, selecting Gillian Boag and Stevi Schnoor to lead out the side this Friday and Saturday.
Both Boag and Schnoor were integral to the Ravens in the 2017 Rugby League World Cup and they have been deservedly rewarded with the new role.
Head Coach, Mike Castle, has plenty of leaders in the team, but a decision was required and he was pleased to name the new captains, saying "whilst neither player was captain in the Rugby League World Cup, their leadership qualities were clear, with Gill being in the top few for run metres and tackles each game and Stevi was always vocal when steering the team around from five-eighth"
Both Boag and Schnoor expressed their pride at the announcement and saw the co-captaincy as a good fit for the side, with Boag saying "It is a great honour just to play for my country again, and to be named co-captain with Stevi is a huge privilege."
"Stevi and I have different styles of leadership, she has really good vision of the field and is a vocal leader, and I see myself leading through example more naturally, so we will balance and help each other."
Both players have a fantastic opportunity to learn from Mandy Marchak as captain of the side in the Rugby League World Cup, but now both players will have the opportunity to input their own style on the nine-a-side format of the game alongside a team with many familiar faces from that same World Cup.
"As a captain in the shortened format I think keeping the intensity high from the first whistle, and never losing hope (is important),"
"Having the World Cup experience under our belt will definitely be a benefiting factor for our team, every practice and every game we play together will only make us better so I'm excited to see the team grow," Schnoor stated.
Boag and Schnoor will lead the Ravens out against Tonga and the Cook Islands on Friday, before hopefully taking the side to play off matches on Saturday.
To purchase tickets for the 2018 Rugby League Commonwealth Championships, visit: https://www.visitmoretonbayregiiion.com.au/rugby-league-9s