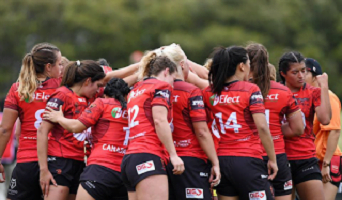 By Julian Clarkstone
The Canada Ravens showed plenty of promise for the future in their first ever World Cup match, going down 4-50 against triple World Cup winners, the New Zealand Ferns.
The Ravens started slowly with several errors in the first few minutes, followed by an early try to New Zealand's winger, Honey Hireme.
The team then found their groove, mounting pressure on the New Zealand tryline, before Megan Pakulis barged over from dummy half, achieving several firsts in doing so.
The try was Canada's first ever try in a World Cup (women's or men's), the Ravens first ever try in an international match and Canada's first ever try (women's or men's) against New Zealand.
"The team worked hard to get a repeat set, so using that advantage and being able to finish it with a try was an amazing feeling," Pakulis said.
The match then levelled out with teams trading possession, with the Ravens having the higher completion rate, but the Ferns managed to regain momentum in back end of the half, scoring two more tries to take the score to 4-16 at halftime.
The halftime break halted the Ravens momentum and with the wind travelling directly into the team, the Ferns rushed away with a flurry of tries, sending the score out to 4-44.
The Ravens fought hard until the end of the match, hardening their defense and only allowing one more try towards the end despite defending their own tryline for several sets, with the final score being 4-50.
Head Coach, Mike Castle, believes there were several positives for to take away from the loss, which will be an invaluable learning experience for the team.
"It was an awesome opportunity to play against such a physical team."
"We've made huge improvements over the last week and I expect us to continue to improve."
"There were some really great moments, and we've identified some key things we need to work on," Castle stated.
Nina Bui was named the player's player of the match for her tireless work at fullback, with other strong performances from Natasha Smith (centre), Mandy Marchak (lock) and Gillian Boag (prop).
The Ravens will spend the next few days recovering and practising before their next match against the Orchids from Papua New Guinea on Sunday at 6:30pm.