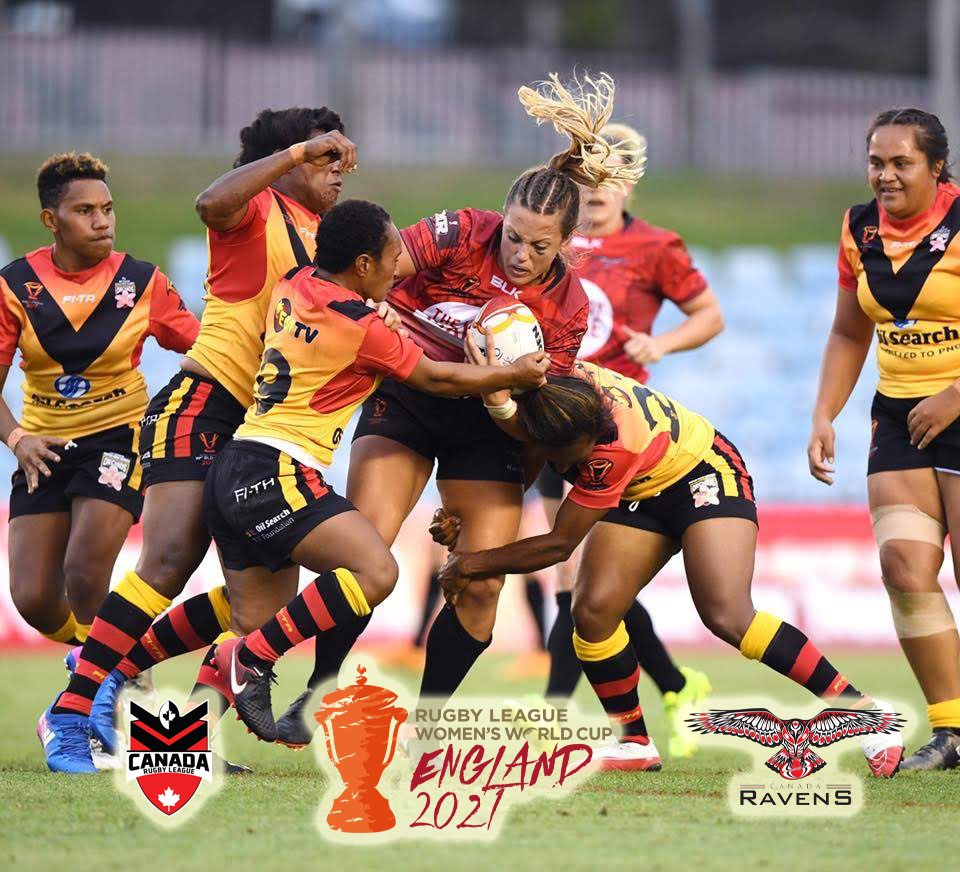 LONDON / TORONTO – Rugby League World Cup 2021 (RLWC2021) has today revealed the confirmed the eight nations who will participate in the women's tournament in 2021, with Canada's national team – the Ravens – being selected.
The nations confirmed for the women's tournament are:
Canada
England (Hosts)
Australia (Holders)
Brazil
Cook Islands
France
New Zealand
Papua New Guinea
Each nation was assessed against set criteria that reviewed their current international and domestic infrastructure, their plans for growth and their potential impact on RLWC2021. The draw for the tournament will take place in November 2019.
Speaking about the announcement, Thomas Hughes, Director of Rugby, Canada Rugby League Association said "We're thrilled that the Ravens will be competing at the 2021 RLWC. With the growth of the game globally, and increased competition for places at this landmark event, it really shows the strong position Canada is in on the world stage of rugby league."
MacKenzie Fane, captain of the Ravens added "For our team to be asked to represent Canada at the premiere rugby league competition is an honour. To be selected as one of the eight finalists globally to compete, shows that women's rugby league in Canada is making a name for itself both nationally and globally."
RLWC2021 will begin with the men's opening fixture featuring England at St James' Park on Saturday, October 23rd 2021. The women's tournament will begin at Anfield on Saturday, November 13th 2021 and the wheelchair tournament will begin on Sunday, November 14th 2021 at the Copper Box Arena. The event will finish with a finals weekend (November 27th-28th) with the wheelchair tournament concluding at the M&S Bank Arena and men's and women's final held as a double-header at Old Trafford.
Following their successful win of the women's Americas Nines Tournament in Toronto in May, the Ravens head to Serbia this September to continue in their test match preparation for England 2021.
For media inquiries please contact [email protected]
ABOUT RUGBY LEAGUE WORLD CUP 2021
The Rugby League World Cup is the pinnacle major event of rugby league, globally contested every four years.
England 2021 will be a breakthrough moment in the tournament's history with the men's, women's and wheelchair rugby league being staged together for the first time.
RLWC2021 will be the most visible rugby league event in history with all 31 games in the men's competition being broadcast live on the BBC and every second of the women's and wheelchair competitions free to watch online.
ABOUT THE CANADA RUGBY LEAGUE RAVENS
Known as the Ravens, the Canada Rugby League women's team have represented Canada in senior & junior women's rugby league football competition since the re-establishment of rugby league in Canada in 2010. Administered by the Canada Rugby League Association, the Ravens are currently ranked 4th in the RLIF World Rankings.