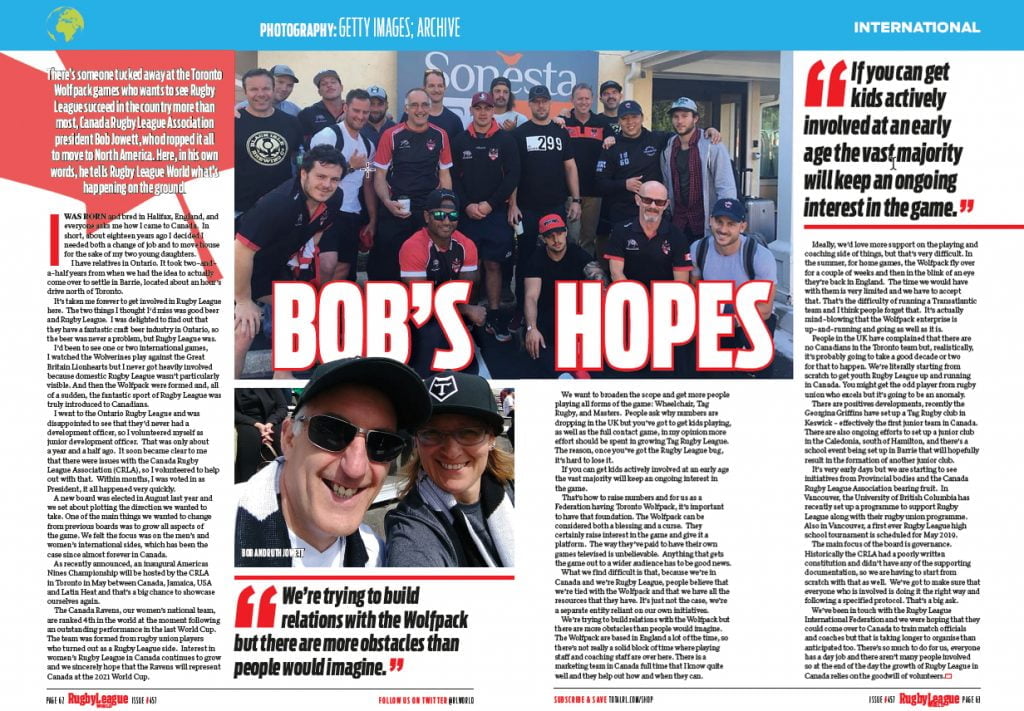 Article Courtesy of Rugby League World | Issue #457 | Follow us on Twitter @RLWORLD
There's someone tucked away at the Toronto Wolfpack games who wants to see Rugby League succeed in the country more than most, Canada Rugby League Association president Bob Jowett, who dropped it all to move to North America. Here, in his own words, he tells Rugby League World what's happening on the ground.
I was born and bred in Halifax, England, and everyone asks me how I came to Canada. In short, about eighteen years ago I decided I needed both a change of job and to move house for the sake of my two young daughters. I have relatives in Ontario. It took two-and-a-half years from when we had the idea to actually come over to settle in Barrie, located about an hour's drive north of Toronto.
It's taken me forever to get involved in Rugby League here. The two things I thought I'd miss was good beer and Rugby League. I was delighted to find out that they have a fantastic craft beer industry in Ontario, so the beer was never a problem, but Rugby League was.
I'd been to see one or two international games, I watched the Wolverines play against the Great Britain Lionhearts but I never got heavily involved because domestic Rugby League wasn't particularly visible. And then the Wolfpack were formed and, all of a sudden, the fantastic sport of Rugby League was truly introduced to Canadians.
I went to the Ontario Rugby League and was disappointed to see that they'd never had a development officer, so I volunteered myself as junior development officer. That was only about a year and a half ago. It soon became clear to me that there were issues with the Canada Rugby League Association (CRLA), so I volunteered to help out with that. Within months, I was voted in as President, it all happened very quickly.
A new board was elected in August last year and we set about plotting the direction we wanted to take. One of the main things we wanted to change from previous boards was to grow all aspects of the game. We felt the focus was on the men's and women's international sides, which has been the case since almost forever in Canada.
As recently announced, an inaugural Americas Nines Championship will be hosted by the CRLA in Toronto in May between Canada, Jamaica, USA and Latin Heat and that's a big chance to showcase ourselves again.
The Canada Ravens, our women's national team, are ranked 4th in the world at the moment following an outstanding performance in the last World Cup. The team was formed from rugby union players who turned out as a Rugby League side. Interest in women's Rugby League in Canada continues to grow and we sincerely hope that the Ravens will represent Canada at the 2021 World Cup.
We want to broaden the scope and get more people playing all forms of the game: Wheelchair, Tag Rugby, and Masters. People ask why numbers are dropping in the UK but you've got to get kids playing, as well as the full contact game, in my opinion more effort should be spent in growing Tag Rugby League. The reason, once you've got the Rugby League bug, it's hard to lose it.
If you can get kids actively involved at an early age the vast majority will keep an ongoing interest in the game.
That's how to raise numbers and for us as a Federation having Toronto Wolfpack, it's important to have that foundation. The Wolfpack can be considered both a blessing and a curse. They certainly raise interest in the game and give it a platform. The way they've paid to have their own games televised is unbelievable. Anything that gets the game out to a wider audience has to be good news.
What we find difficult is that, because we're in Canada and we're Rugby League, people believe that we're tied with the Wolfpack and that we have all the resources that they have. It's just not the case, we're a separate entity reliant on our own initiatives.
We're trying to build relations with the Wolfpack but there are more obstacles than people would imagine. The Wolfpack are based in England a lot of the time, so there's not really a solid block of time where playing staff and coaching staff are over here. There is a marketing team in Canada full time that I know quite well and they help out how and when they can.
Ideally, we'd love more support on the playing and coaching side of things, but that's very difficult. In the summer, for home games, the Wolfpack fly over for a couple of weeks and then in the blink of an eye they're back in England. The time we would have with them is very limited and we have to accept that. That's the difficulty of running a Transatlantic team and I think people forget that. It's actually mind-blowing that the Wolfpack enterprise is up-and-running and going as well as it is.
People in the UK have complained that there are no Canadians in the Toronto team but, realistically, it's probably going to take a good decade or two for that to happen. We're literally starting from scratch to get youth Rugby League up and running in Canada. You might get the odd player from rugby union who excels but it's going to be an anomaly.
There are positives developments, recently the Georgina Griffins have set up a Tag Rugby club in Keswick – effectively the first junior team in Canada. There are also ongoing efforts to set up a junior club in Caledonia, south of Hamilton, and there's a school event being set up in Barrie that will hopefully result in the formation of another junior club.
It's very early days but we are starting to see initiatives from Provincial bodies and the Canada Rugby League Association bearing fruit. In Vancouver, the University of British Columbia has
recently set up a program to support Rugby League along with their rugby union program. Also in Vancouver, a first ever Rugby League high school tournament is scheduled for May 2019.
The main focus of the board is governance. Historically the CRLA had a poorly written constitution and didn't have any of the supporting documentation, so we are having to start from
scratch with that as well. We've got to make sure that everyone who is involved is doing it the right way and following a specified protocol. That's a big ask.
We've been in touch with the Rugby League International Federation and we were hoping that they could come over to Canada to train match officials and coaches but that is taking longer to organise than anticipated too. There's so much to do for us, everyone has a day job and there aren't many people involved so at the end of the day the growth of Rugby League in Canada relies on the goodwill of volunteers.
To help Bob and the Canada Rugby League Association grow the game in Canada, come and enjoy the Americas Rugby League Nines festival on Saturday, May 18 at Lamport Stadium in Toronto. Experience a full festival atmosphere, non-stop action with women's and junior Rugby League also on view. Try out some exceptional craft beers in the The Craft Guys renowned Beer Garden whilst cheering on your team.
Tickets are only $10 for Adults, while kids Under 16 are free!!!. Complimentary tickets are also available for all Toronto Wolfpack season ticket holders. A great way to kickoff the Victoria Day long weekend!
To purchase tickets please click on the link below;
https://www.eventbrite.co.nz/e/americas-rl-9s-tournament-tickets-57739449247
Rugby League World Magazine is your 'access all areas' pass behind the scenes of the world of Rugby League.
Every month, packed with the colour and detail behind the news with views and analysis from the sport's leading writers and personalities. Rugby League World is essential reading for anyone who cares about Rugby League, wherever and by whoever the greatest game is played.
Established in 1976 as 'Open Rugby', the magazine adopted the title Rugby League World in 1999.
Rugby League World is widely available from newsagents in the United Kingdom. It is also available on postal and digital subscription in the UK and worldwide. To subscribe please click on the following link; http://www.totalrl.com/rugby-league-world/