The Canada Rugby League board of Directors has announced that Benjamin Fleming will be in charge of the Canada Wolverines National Teams for the next three years.
Canada Rugby League Association Vice President David Graham said "the board's decision to appoint Fleming as Head Coach was based on the hard work and passion he has shown since returning to the association last year."
"The Association has decided to appoint Fleming for three seasons, based on what we believe is a coaching philosophy and culture which will continue to take the team in a positive direction both on and off the field," Graham said. "Benjamin has been instrumental in creating worthy values such as accountability, teamwork, respect and integrity and we know he's the right person to help us achieve our future goals."
It was a simple text message from Canada Rugby League's High Performance Director that assured Fleming he was the successful candidate for the Men's National team job, but beneath the relaxed nature there is an intense desire both in Fleming and the Association to create both a culture that players want to buy in to and a lasting legacy for many years to come.
Fleming identified professionalism, consistency, transparency and communication as key coaching elements in setting and maintaining high standards both on and off the field.
"You have to look at where you are and where you are headed, and Rugby League in Nth America is getting bigger and bigger. With a professional competition in the foreseeable future, players have to start to act professional before they can become professional. It's coming together, being clear about our goals and laying a foundation and building on that each year," Fleming said.
"It's healthy towards your future success by creating a culture suitable to the environment and building from that. Doing the simple things both on and off the field first will be fundamental in us succeeding. It won't always be about picking the best players to represent Canada it'll be about picking the best men. I think the character of a person on and off the field really matters when you select representative sides.
Fleming returned to the Wolverines side as an Assistant coach in 2016 after having played two games in 2013 but this isn't the player that left here, this is a person now that is wiser, older and knows a lot more things.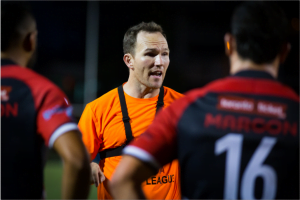 Fleming was born and raised on the shores of Australia, growing up playing Rugby League. After playing in the New South Wales Rugby League competition (NSWRL) for an extended period of time, most notably with the Newtown Jets, he travelled the world playing the game of football across 5 continents. He is well versed in Rugby League and well experienced.
Of his experience Fleming said, "I think in my travels, it's not about what you coach but how you coach. I think you have to identify with individual players. There are times you have to address the team and there are other times you have to address the player. All players are individuals and sometimes vastly different from each other- some introverted, some extraverted, some are visual learners, or more kinaesthetic or auditory learners so it's a matter of knowing how the players learn so as you can get the best from then."
Graham said "With Rugby League gaining momentum in Nth America, the introduction of the first ever transatlantic Rugby league team at our doorstep (Toronto Wolfpack), we really believe Fleming is the right man to turn the corner in this Association and steer us to our first World Cup birth."
"It's about establishing a new culture and a difference in attitude. He's learnt a lot of things in his time traversing the world, and it's about giving him some time, some freedom and letting it all develop."
The Wolverines currently sit 12th in the World and will play Fiji, Jamaica and the USA in 2017.