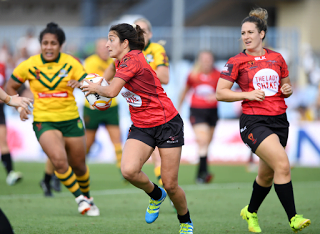 The Canada Ravens have had their toughest test yet, being convincingly beaten 88-0 by the reigning Rugby League World Cup champions, the Australian Jillaroos.
The Jillaroos scored nine tries in each half and showed why they are the favourites to win the 2017 Rugby League World Cup.
After completing their first set, the Jillaroos kicked into the corner, applied pressure and forced a knock-on from the Ravens, before scoring their first try in the ensuing set.
From there the Ravens fought hard, though they struggled to get any possession throughout the match, with low completion rates compounding the effects of Australia's attacking potency.
The Jillaroos favoured their right side through the match, scoring a majority of tries there, which included a hat trick to their right centre.
The Ravens had few attacking opportunities, with Jade Menin creating the only linebreak of the game for the team late in the second half.
Whilst the Ravens players were understandably disappointed with the result, the match will be a learning experience for the team.
After the match the players were asking plenty of questions to their coaching staff, a promising sign considering that the Ravens will need to play the Jillaroos once again in the semi-finals this Sunday, where they will be desperate to improve from this performance.
In his post match press-conference head coach, Mike Castle, was full of praise for the opposition but also had plenty of encouragement for his playing group.
"They (Australia) were sensational, they are very clinical, their defense was outstanding and I don't think they missed a tackle."
"This has brought us back down to earth after the PNG win, we'll go back and continue to build and we'll see what happens on Sunday."
"They (the team) will be disappointed after today but they are not the type of girls to lay down and stay disappointed, they'll just want to move on and grow from it."
The Ravens will now move their preparations to Wollongong ahead of Sunday's semi-final match against the Australian Jillaroos, which will take place at Southern Cross Group Stadium, Cronulla at 4pm.