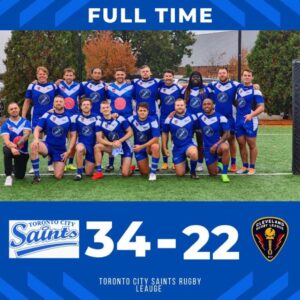 UPDATE: Saints were victorious – 34-22
The Toronto City Saints take on Cleveland Rugby League today in a Rugby League Fixture Titled "The Battle of the Great Lakes" vs Cleveland Rugby League. The game kickoffs at 6:00pm at the George Finnie Stadium. The Saints are expected to feel comfortable executing the game plan at this larger stadium with capacity of 7500. The turf field should allow for a fast track and some good expansive gameplay.
The City Saints have travelled and arrived in Cleveland yesterday (March 31st) evening for a team dinner and final review of the game plan prior to game day. The team features familiar faces including club legends and team captain today Nick Hails and Vice-Captain Dave Astley. Expect to see these two guide the tempo of the game and lead the players in the defensive line making dominate tackles.
Mikkel Borggren, Lee Keegals and Jordan Henry are expected to bring the x-factor in the spine, watch out for these two making line breaks and opening up Cleveland's defense. Ethan Lang is looking to replicate his high ball dominance in the air last seen in Serbia in 2018. The spine has been practicing well in the weeks leading up to the game with Greg Wise and Nick Hails starting to find synergies working together in the halves and getting great ball off the deck from Kyle Yurkiw.
On debut today is Saints new man Nathan Brown coming off the bench providing that forward energy with positive ball carriers up the middle and good vocals in defense. The triple Tyler's (Tyler Lane, Tyler Whitfield, Tyler Mcgratten) will provide some consistency throughout the side. Surely fullback Lee Keegals will be shouting Tyler many times today on defence.
Leading the pack today is veteran Canada Prop Chuck Curran , who has been known for his ball playing and technical knowledge in defence. Jason Chuck , Tremaine Griffiths-Thompson, Scotty Christian and fan favourite Matty "Marty" Barron , will provide that brick wall defence that the Saints executed on against Boston 13's.
Notable absence's today are Dan Martyn excluded by injury, Andrew Giguere, Michael Mastroianni, Emil Borggren, Danny Tupo, Tony Felix and club hero Eddie Billbough. Saints not traveling with the side and ruled out for today's match but expected in the season line up are Andrei Bashevsky, John Teutau, Enoch and Griffin Nykor, Antoine Blanc, James Tripp and Bam Atkins. Both Dan Martyn and Michael Mastroianni have both made the trip to Cleveland to support the side and leading the team on the sideline will be Michael Mastroianni acting as Coach today.