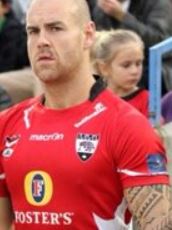 Ulverston, England, United Kingdom
What is you favorite food?
Thai
What is on your bucket list?
1. Travel the west coast of the US
2. Visit Vancouver
3. Visit Australia ( preferably 2018 )
What do you do away from Rugby League?
Spend time with my little boy, gym, travel
Best piece of advice given?
If you spend today worrying about tomorrow , you will never be happy
What can't you live with out?
Spotify
Ruairi McGoff is proudly sponsored by: